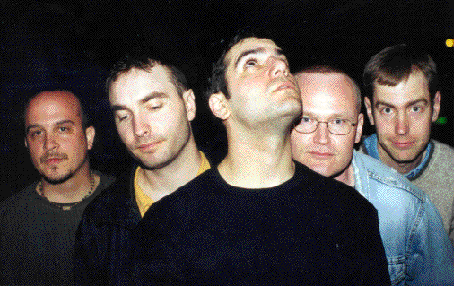 With the summer release of their first full-length CD, the creamy pop gems of mother's choice have skeptics crying, "I can't believe they're not butter!!" The 13 song release is sure to please even the choosiest of mothers. With songs of unrequited love, swollen outlaws, & sleep deprivation, the band proves that while they may be Mother's Choice, they are no "momma's boys."
Dave, guitar, is the newest member of the band. He hitchhiked from Chicago and has played each song only once.
Leif, bass, hails from Minneapolis. Previously, he played a stint with the Cow Tippers in St. Paul. His "take no prisoners" style has, at times, been known to set captives free.
Barber was the lead vocalist in the NJ rock band "To Be Announced" before joining Mother's Choice. He has been honing his chops to sing nude on Broadway.
George spent his teen years in Chicago modeling fake mustaches and testing the limits of a phony birth certificate while drumming with Tiger Beat has-beens and new wave hopefuls. He has performed with members of The Buckinghams (KIND OF A DRAG) and members of Elvis Presley's band.
Jeff, guitar & vocals, is the band's main songwriter. Staying one step ahead of the law from Ohio to Virginia to North Carolina, he settled down in Portland two years ago and assumed the name "Jeff."
With musical influences ranging from The Replacements to Uncle Tupelo, a night with Mother's Choice is more fun than rubbing steel wool on grandma.